›› Carica
---
What is Virgin Coconut Oil?
Virgin Coconut Oil or VCO in short, is coconut oil processed from fresh coconuts. This is in contrast to the common way of processing coconut oil from crudely dried, long stored and aged coconut meat called "copra." Copra in storage accumulates two harmful elements: mold and therefore aflatoxin and rancidity (free fatty acids). Oil extracted from copra has to be treated with caustic soda, thus refined, bleached and deodorized at 400 deg F to become edible.
A continuous extracting process starting with fresh coconut results in oil that does not have aflatoxin and free fatty acids and caustic soda residues. The VCO is extracted either by fermentation of freshly extracted coconut milk or 2 hours drying and mechanical separation. The fermentation system can yield VCOthat is absolutely cold-pressed whereas the mechanical or expeller method requires the coconut to be quick-dried first at of 80 deg C temperature.
---
more info
››
product photos
››
machine photos
››
pricelist
››
health benefits
››
outlets
---
FOR SALE
- machine for VCO making (grater, presser, beater, filter)
- herbal teas(coconut tea, ampalaya tea, etc.)
- juices (mangosteen, noni, dalandan, etc.)
- food supplements

text 0926-6746235 or call 757-2869(virlyn vidad)
HOT NEWS for the week

Mr. Tan mahilig sa VIRGIN???
Oo mga kababayan mahilig talaga si Mr. Tan sa mga Virgin, lalong lalo na yung... full text...
Kalan using denatured Alcohol in na in
Parami na ng parami ang mga taong gumagamit ng KALAN na... full text...
Gumaca, Quezon seminar with Landbank
Inilunsad na nga kamakailan ang seminar sa Gumaca, Quezon sa ... full text...
Bahay Kubo Franchised Outlet
01 CONCEPT ... bahay kubo, the Filipino way of the past. full text...

CARICA HERBAL HEALTH PRODUCTS
features....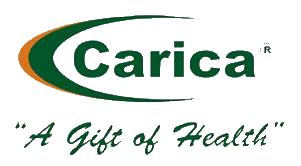 FOR FREE SEMINARS ON LIVELIHOOD contact us
NOW HOW TO MAKE suka, toyo, coco burger, macaroons, vco, soap

TLRC schedule for march see sched